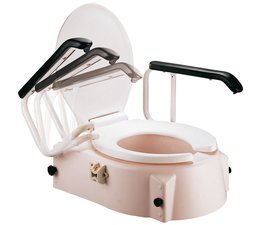 ExcelCare HC-1106
The ExcelCare HC-1106 is an extensive toilet seat. The toilet riser is height adjustable.
Please contact us for the most recent price
ExcelCare HC-1106
The ExcelCare HC-1106 is a raised toilet seat, fitted with a seat and lid. The folding armrests make using the toilet riser a lot easier. The armrests can also serve as support when standing up and sitting down.

The seat height is adjustable in the following heights: 6, 10 and 14 cm. The ExcelCare HC-1106 can be placed on almost all standard toilets. The toilet seat is made of high-quality plastic. Its smooth structure makes it hygienic to use and easy to clean.

The ExcelCare HC-1106 is not a medical device within the meaning of Directive 93/42/EEC or the Medical Devices Decree of March 30, 1995. The booster toilet is a generally usable mobility product, with a view to comfort and ease of use.

Product complies with EN 12182.
| | |
| --- | --- |
| Overall length: | 50 cm |
| Overall width: | 56 cm |
| Total height: | n / a |
| Increase: | 6 ↔ 14 cm (adjustable) |
| Total Weight: | 6,8 kg |
| User Weight: | Max. 125 kg |
Remark: The range (if mentioned) is measured under ideal circumstances in a clinical test. Range can vary and is influenced by the battery condition, user weight, road conditions, outside temperature, tire pressure and way of usage.