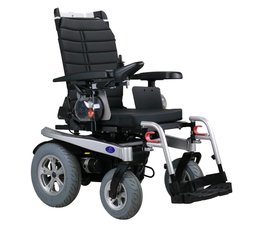 Excel Airide Go!
EXPORT CONFIGURATION. The Excel Airide Go! is a modified export model, a contender in many countries in Europe!
Please contact us for the most recent price
Excel Airide Go!
With the Excel Airide Go! modular is not a buzzword but actually an added value. The configuration of this export model is based on a number of criteria within the European market. From the base, the Excel Airide Go! be constructed in such a way that the most ideal user match is created. What if different needs arise during use? No problem; the option and accessory system is designed in such a way that the configuration can be adjusted afterwards.


Your reason for choosing the Excel Airide Go!:
Standard equipped with a backrest with tension straps. A wide range of padded seats and backs are available;
Equipped with removable and height-adjustable armrests, also width and depth adjustable;
Equipped with a swing-away joystick, which can be mounted on the left or right;
Optionally available with an LED lighting module;
Modularly available as Front Wheel Drive (FWD) or Rear Wheel Drive (RWD).
The Excel Airide Go! has been renewed!
The size of the front wheel has been increased from 9" to 10". This results in better course stability and better handling outside;
The front fork is wider and thicker/heavier. This makes the front fork stronger and the chance of deformation is therefore nil;
The width of the front wheel has been increased;
The profile and tread of both the rear and front wheels has been modified. This has become rounder. As a result, there is better pivotability and comfort, especially when driving outdoors;
The shape of the side frame; due to the lower profile, the width adjustment of the armrests at the front wheel driver, at the lowest seat height, is easier to adjust;
The color of the side frame is different. The new color is silver metallic.
Available accessories
| | |
| --- | --- |
| Overall length: | 101 cm (FWD) / 94½ cm (RWD) |
| Overall width: | 57 cm |
| Total height: | 103 cm |
| Total Weight: | 68 kg (excl. batteries) |
| User Weight: | Max. 160 kg |
| Available colour(s): | Metallic silver |
| Seat width: | 42 ↔ 54 cm (adjustable) |
| Seat height: | 57 cm (47 cm excl. seating) |
| Seat depth: | 42 ↔ 60 cm (adjustable) |
| Back height: | 47 cm |
| Batteries: | 2x12V, 50Ah |
| Loader: | 24V / 5Ah |
| Turning radius: | RWD: 170 cm / FWD: 120 cm |
| Range: | 30 km |
Remark: The range (if mentioned) is measured under ideal circumstances in a clinical test. Range can vary and is influenced by the battery condition, user weight, road conditions, outside temperature, tire pressure and way of usage.