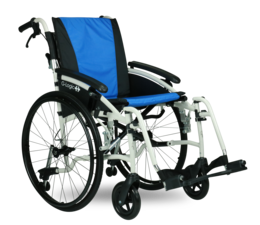 G-Logic
The Excel G-Logic is a lightweight wheelchair that can be put together according to your own personal taste.
Article number:
337XXK2120
Please contact us for the most recent price
Excel G-Logic
If you know the Excel G-Series, you are probably familiar with the Excel G-Lite Pro. The Excel G-Logic is a perfect continuation of this chair. Like the G-Lite pro, the G-Logic is very lightweight (less than 12 kg!) And super convenient to take with you on travels, thanks to the fold-down back, detachable footrests, removable wheels, detachable upholstery and folding frame.
The unique thing about the G-Logic is that it can be assembled using three different frame colors and four different seat and back upholstery sets. The G-Logic is available in the frame colors black, silver and white and with upholstery colors blue-black, red-black, orange-black and brown-black.
Why choose the Excel G-Logic?
The Excel G-Logic can only be ordered as a complete package, meaning that it is not possible to order the wheelchair without seat / back upholstery. However, it is possible to order additional seat / back upholstery sets. 
The Excel G-Logic is equipped with lightweight rear wheels with a new generation of polyurethane leak-proof tires. This means lower rolling resistance and this makes the G-Logic a lot lighter. The rear wheels are also removable. 
With the design of the G-Logic, eye for detail certainly comes forward. For example, the G-Logic arm rests are height-adjustable. This is useful when the G-Logic has to be driven at the table. The backrest is half folded down, which is not only useful when carrying, but also when a jacket needs to be pulled on or off by the occupant.
Available accessories
| | |
| --- | --- |
| Total height: | 95 cm (height push handles) |
| Total width: | Seat widht + 20 cm |
| Total length: | 108 cm (incl. footrests) |
| Total Weight: | 11,5 kg |
| User Weight: | 113 kg |
| Available colors: | Framecolour: silver, white and black. Upholstery colour: orange-black, blue-black, red-black and brownblack. |
| Seat width: | 40, 45 and 50 cm |
| Seat depth: | 42 cm |
| Seat height: | 54 cm |
| Back height: | 42 cm |
Remark: The range (if mentioned) is measured under ideal circumstances in a clinical test. Range can vary and is influenced by the battery condition, user weight, road conditions, outside temperature, tire pressure and way of usage.